Feast of Magosto or San Martín Patron Saint Festivities in Ourense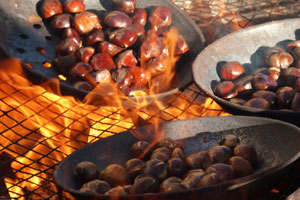 It celebrates: From 11th November to 11th November
Place: Ourense (Orense)
Category: Gastronomic
Popularity: (***) 3/5
Ideal for children
Organize: Ourense City Council
Known start date: This festival was celebrated even before Christianity.
Figure of protection: Festivity of Regional Tourist Interest (since 2008).
Reading time: 1 minute and a half
The magosto is a celebration that takes place around the fire, where chestnuts are roasted, while family, friends and neighbours gather to enjoy food, drink and dance.
What does the festival consist of?
This is a very original festival, but with a markedly popular character true to its roots. Generally, family and friends get together to go up the mountain, roast chestnuts, sausages or pork on a bonfire and enjoy a good wine.
The atmosphere is very festive, with music, dancing and food, in the best possible company, in the hope that the spirits of loved ones can join the party in Ourense, the city in which this celebration is lived with greater intensity.
Origin of the Magosto Festival
The Magosto festival is a ritual that combines two basic elements, which are the chestnut and the fire. These elements come together to honour the arrival of autumn. It is celebrated in Ourense on 11 November, which coincides with the Feast of St. Martin, because it is the day on which chestnuts begin to fall from the trees.
Curiosities of the festival
The Magosto Festival was a pagan celebration, before Christianity, and as such, it is related to many beliefs.
It is related to the cult of fertility, hence the presence of fire.
According to ancient beliefs, each chestnut that is consumed is considered to be a soul released from purgatory.
Some people paint their faces with the remains of the bonfire and jump over it to receive good luck.
What to see in Ourense?
Cathedral of San Martín de Ourense.
Outariz Thermal Baths.
Las Burgas.
San Lázaro Park.
Barbaña Park.
Gastronomy
Lacón with turnip tops.
Galician broth.
Galician pie.
Marron glacé.
Almendrados.
Almond tart.