FLORA, Cordoba International Flower Festival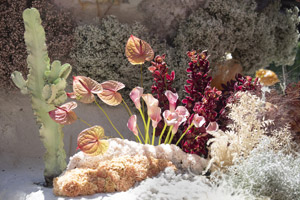 It celebrates: From 17th October to 27th October
Place: Córdoba (Córdoba)
Category: Floral
Popularity: (***) 3/5
Ideal for children
Organize: Córdoba City Council
Attendance last year: 45.000
Known start date: Since 2017
Reading time: 1 minute and a half
Cordoba is the protagonist of a unique event that brings together national and international artists who create spectacular floral installations in some of the city's most outstanding courtyards.
What does the festival consist of?
At the Cordoba Flower Festival, several internationally renowned floral artists have the opportunity to create a beautiful work in some of the courtyards located in representative buildings in Cordoba, which are on loan from Cordoba City Council.
This is the main activity, however, during the days of the event, all those present will be able to enjoy other cultural activities that complement this festival.
These courtyards offer a pleasant tour and can be visited free of charge, and are the basis of a competition, in which the winners will receive a cash prize from FLORA.
The artists are in charge of reinterpreting each of the patios from different aspects, such as cultural factors and the context, which allows all visitors to see Cordoba's heritage in all its splendour, and which has managed to project this city around the world.
Origin of FLORA, the Cordoba Flower Festival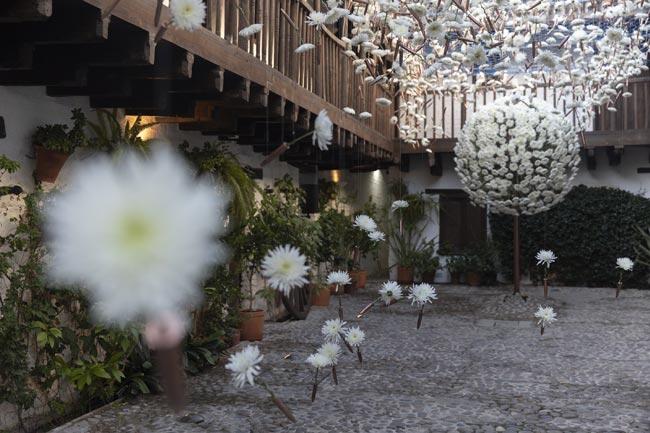 This beautiful festival was born just a few years ago, when Jiangping Fu, the president of the hotel chain Zizai Hotels and the City Council of Cordoba decided to organise a competition in which all the attendees could enjoy a delicate combination of culture and contemporary art of floral installations.
What motivated Fu to be part of FLORA was the stunning beauty of Cordoba's patios on a visit he made in 2015, and his goal is for Cordoba to be recognised both in Spain and in China.
What else to see in Cordoba?
Apart from visiting the gardens that make up this event, we invite you to consider these options in the beautiful city of Cordoba:
Mosque - Cathedral of Cordoba.
Mudejar House.
Alcazar of the Christian Monarchs.
Synagogue.
Bullfighting Museum.
Arab Baths.
Palace of the Muñices.
Museum of Fine Arts.
Hiking to the ascent of the Ermitas - Balcony of the world.
Gastronomy
Salmorejo.
Fried Aubergines with honey.
Iberian Ham and Iberian Cheese.
Potato omelette.
Cordovan cake.
Wines.
Olive oil.