Running of the bulls of Pilón in Falces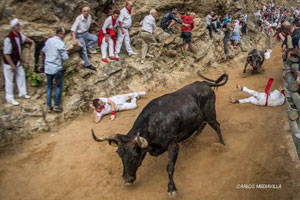 It celebrates: From 14th August to 21st August
Place: Falces (Navarra)
Category: Bullfighting
Popularity: (**) 2/5
Organize: Falces Town Council
Known start date: Since 1752
Figure of protection: Festival of Regional Tourist Interest (2011)
Reading time: 1 minute and a half
In August, in the Navarrese town of Falces, the Encierro del Pilón takes place, where the most characteristic feature is the races in front of the heifers by the young people of the town along a narrow path at the foot of the cliff.
What does the Encierro del Pilón consist of?
The festival in honour of the Virgen de Nieva was declared of Regional Tourist Interest in 2011. The runners guide the bulls for 800 metres from the goat farm to the Pilón corral, which gives its name to the festival. The characteristic feature of the route is that it runs along a narrow, downhill path with the mountain wall on one side and the cliff on the other, hence the danger of the event, and at the same time its attraction.
Origin of the Running of the Bulls at Pilón de Falces
The oldest documents that have been found about the running of the bulls in Falces date back to 1752, where it is said that the spectacle of running in front of the bulls has been offered since time immemorial.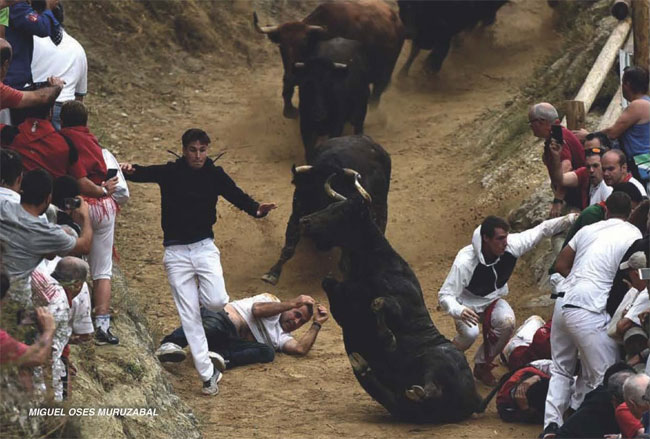 The fiesta is closely linked to the orography of the terrain, which is very steep with paths on the edge of the cliffs. The origin comes from the need to move livestock down the mountain. The men would come with food in order to achieve this transfer without injury and without losing any cattle.
Later on, competitions began to see who was the fastest to cover the path guiding the heifers, until the festival evolved to the present day.