The Weddings of Isabel Segura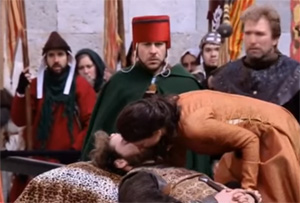 It celebrates: From 18th February to 21st February
Place: Teruel (Teruel)
Category: Representation
Type: Medieval
Popularity: (****) 4/5
Ideal for children
Organize: Isabel's Wedding Foundation
Known start date: Desde el año 1997
Figure of protection: Festival of National Tourist Interest
Reading time: 3 minutes
The Wedding of Isabel de Segura, also known as the Lovers of Teruel is a Festival of National Tourist Interest that is traditionally celebrated the weekend following February 14 and that this 2021 will take place from February 18 to 21 virtually.
What are "Las Bodas de Isabel"?
This festivity that attracts the interest of both locals and visitors, has become an event that adorns the streets of this region where spectators can witness the legend called Lovers of Teruel, a tragic love story.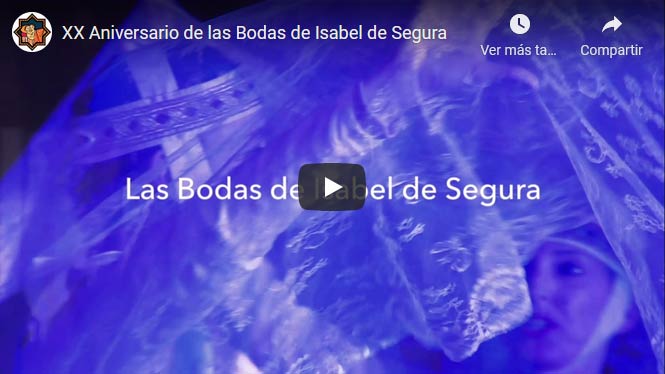 Those in charge of giving life to such a wonderful and moving show must wear ancient costumes adapted to the time when such fateful events occurred.
In addition, a medieval market is improvised, attended by musicians, artisans, dancers and a large crowd of people where their faces are bare before the enveloping and embracing flames of the bonfires.
During three long days the assistants enjoy more than 60 stagings with amateur actors, the most significant being the wedding of "Isabel de Segura" and "Pedro de Azagra", the kiss that seals their tragic story of love, death and the funeral procession of both lovers.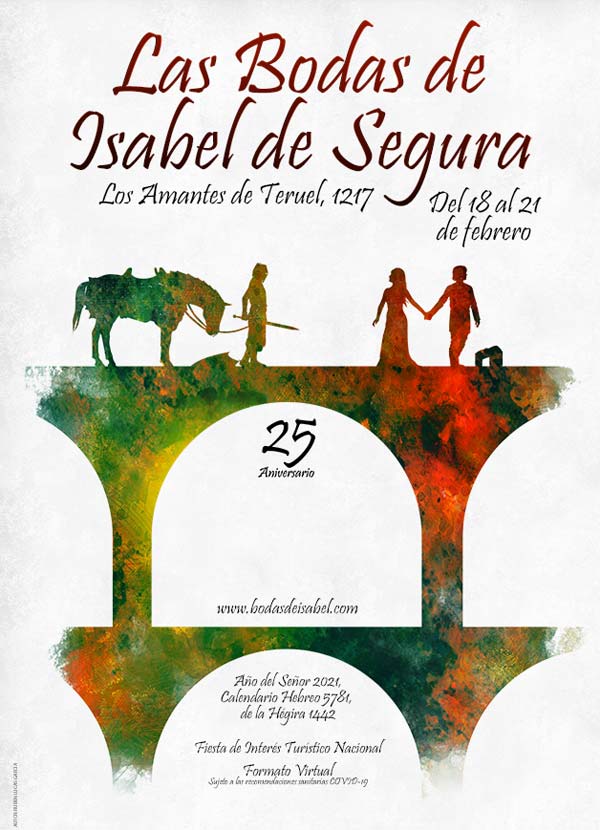 Origin of the Weddings of Isabel de Segura
The origin of this celebration was thanks to the imagination of Raquel Esteban, who with a long career in the world of arts, theater and dance and as a result of her great ingenuity gave life to an idea which was to recreate the party to transform to Teruel in a more striking and interesting city with the interpretation of a theatrical work in its main streets, accompanied by cultural groups, musical bands and the general public.
This brilliant and very assertive proposal has brought good results to the city over the years. as it has become a true festival, where professional actors of great stature participate, leaving attendees a good taste in their mouths for being a unique event and that today is considered a Festival of National Tourist Interest.
With the participation of more than 140 groups, this festival is launched every third weekend of February to entertain the crowded audience that is present in Teruel and where there is an atmosphere adapted to medieval times.
All this was conceived through a dream, where she says that it all started by reading some of the passages from the legendary poem Mío Cid and the famous weddings of the daughters of this character that over time has become a reality that has converted Teruel in a tourist place par excellence, which every year brings together more than 80,000 visitors who dream of being present at the Weddings of Isabel Segura or also known as the Lovers of Teruel.
What other things to see or do in the town of Teruel?
Although Teruel is not a city that attracts many tourists, it does have historical and really striking places that could easily catch the attention and interest of the people who visit it.
Here you can find the "Torre del Salvador", considered a World Heritage Site and without a doubt, its main tourist attraction. From its viewpoint you can contemplate all the beauty and majesty of its landscapes. You can also enjoy taking a tour through the so-called "Escalinata", considered a historical monument of this city.
Another place that you cannot miss if you go to Teruel is the Dinopolis Theme Park, so that you can have a unique experience next to these mythical species.
A walk through the "Plaza del Torico", which is an emblematic site of this city. Another place of interest that will surprise you is the "Aqueducto de los Arcos", which was declared a Site of Cultural Interest.
Gastronomy in Teruel
If you want to enjoy the typical food of this region, we recommend you taste the traditional "Gazpacho de Pastor", the "Caldereta de Pastor", the popular "Madejas", a real delicacy or the "Jamón de Teurel", which is recognized throughout the world, as well as a great variety of sweets and desserts such as meringues, "Pasteles Borrachos" or the famous "Trenzas Mudejar", to delight your palate.