Carnival of Verín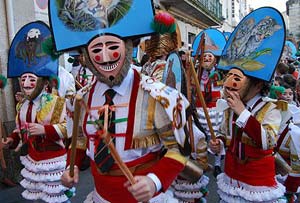 It celebrates: From 4th February to 21st February
Place: Verín (Orense)
Category: Carnival
Type: Urban
Popularity: (****) 4/5
Ideal for children
Organize: Verín City Council
Figure of protection: Festival of National Tourist Interest (2009)
Tiempo de lectura: 1 minuto y medio
The Verín Carnival is a festival of National Tourist Interest, which this year will take place from February 4 to 21, 2021. During the celebration different events are held, each one full of adventure, fun and much entertainment.
What is the festival about?
This is a festival where some colorful characters called Los Cigarrones, who dressed in very particular and colorful costumes and wearing masks begin to chase the locals with a whip in hand, to encourage them to participate and this is part of the show.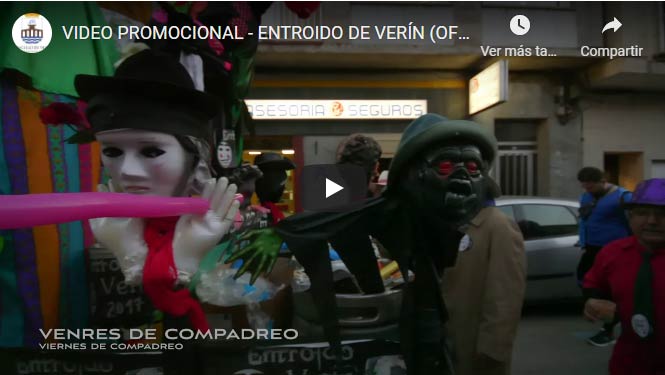 Each day of the carnival has a particular name, starting with Compadres Thursday, followed by Corredorio Sunday, Comadres Thursday and the rest of the Carnival days, then Ash Wednesday will come and culminating with Piñata Sunday, where the famous "Pescadilla" prize is awarded in honor of the renowned singer and composer of flamenco music.
Origin of this festivity
The origin of this festival is not very clear since there are no records or documentation to support it, however, it is believed that its origins are in the purification rites performed by cattlemen during the pre-roman period.
Later, after the civil war, it was achieved that these celebrations were carried out through some special permits. It is from the year 1944 and thanks to the mayor of the town of Verín that this could become a reality. As of 2009, the carnival has been declared a Festival of National Tourist Interest.
What to do in Verín?
Visiting Verín is being ecstatic with the beauty of a town where the most outstanding feature is the Monterrei Fortification, declared a National Monument in 1931, and the splendid Alameda Gardens.
In this region there are also the mineral-medicinal water sources and the Invernadeiro Natural Park. In addition, a visit to the Historic Center of Verín cannot be missed on the itinerary. It will just fascinate you!
As for its gastronomy, Verín is known for offering visitors the richest and most varied dishes in the area. The "Empanada Gallega" is typical of this region. Likewise, you cannot stop tasting the exquisite octopus á feira, the Galician stew or the famous "filloas". Also, the great cod or the succulent called "lacon con grelos".
Among its wide variety of desserts are torradas, fried milk, "arroz con leche" and the popularly known "tarta do cigarrón", a true delicacy that will make your palate water.