Rapa Das Bestas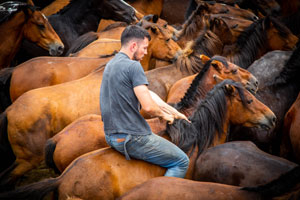 It celebrates: From 1st July to 4th July
Place: Estrada, A (Pontevedra)
Category: Tradition
Popularity: (****) 4/5
Ideal for children
Organize: Rapa das Bestas de Sabucedo Association
Known start date: Since 1779
Figure of protection: Festival of International Tourist Interest (2007) and Festival of National Tourist Interest (1963)
Reading time: 3 minutes and a half
A tradition that goes back to ancestral times has to do with the Rapa Das Bestas. A popular festival that has been recognised as a Festival of National Tourist Interest in 1963 and a Festival of International Tourist Interest in 2007.
In 2022 it will take place from the 1st to the 4th of July.
What does the Rapa Das Bestas festival consist of?
The Rapa Das Bestas is an ancient livestock tradition that has been celebrated for some 400 years, which consists of cutting the manes of wild horses, as well as applying other basic palliative care such as deworming and the treatment of possible wounds. It should not be seen as an act of animal cruelty, but as a country ritual with history and tradition.
How is this holiday celebrated?
For the year 2022 the motto of the parish of Sabucedo to celebrate this popular festival is "Sabucedo. A chamada da tradición".
This festivity begins at dawn, with the celebration of the Alborada Mass in the village church, to ask San Lorenzo for protection for the people and animals that participate in this ancient tradition.
Afterwards, locals and visitors go to the mountain to look for the horses (bestas) and the stallions (garañones). All the horses from the mountains are gathered together in closed enclosures called curros. This stage of the festival is known as the Baixa.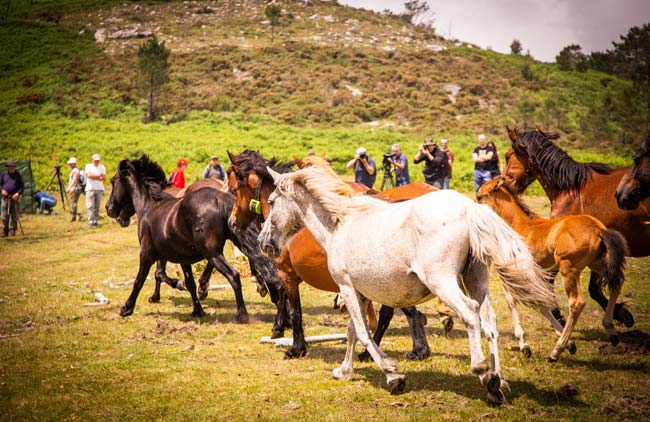 Then the young villagers who are initiated in this rural rite, known as aloitadores, come to the village. Their job is to try to immobilise the wild animals, without resorting to the use of tools. Adult horses have their manes cut off, are wormed and fitted with an identification chip.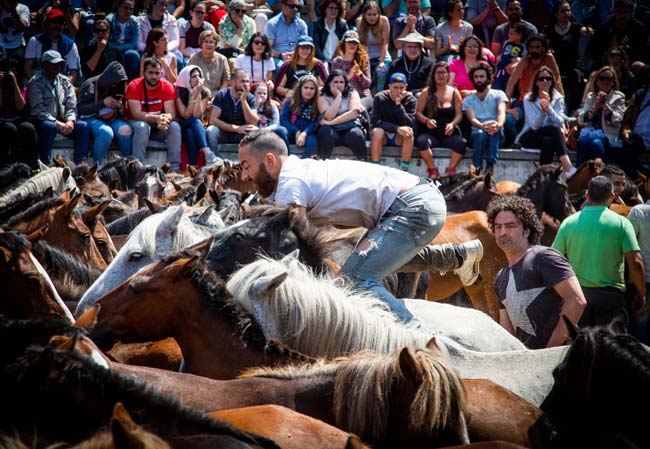 The festivity culminates with a pleasant snack, to celebrate the day after returning the animals to their habitat, duly cared for, cured and wormed.
Origins of the Rapa Das Betas celebration
This popular festival of Celtic origin dates back to 1779 and takes place in Galicia. It used to be celebrated in front of the church in the carro vello.
According to the legend, a plague took over the parish of Sabucedo and two sisters offered two horses to San Lorenzo. The local parish priest freed them on the mountain and after a certain period of time they multiplied.
Nowadays, since 1997, it has been celebrated in a new parish church, with about 1,500 seats.
Curiosities of the Rapa das Bestas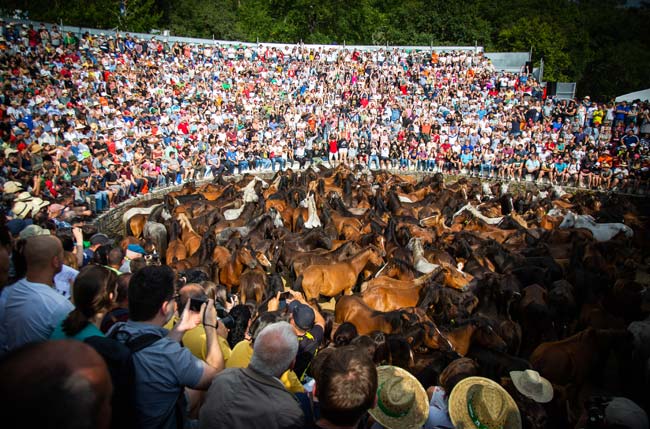 Find out some curious and interesting facts about Rapa das Bestas:
This festivity is one of the twelve Galician festivities of international character and are widely known worldwide.
The fur from the cut manes is used to make bows for stringed instruments, threads for tapestries and paintbrushes.
The wild horses are of the Galician crossbred or pure Galician breed. There are an estimated 1,600 wild horses, which may be in danger of extinction.
This tradition is celebrated in other Galician villages: San Tomé, A Capelada, Monte Castelo.
The manes of some 600 horses are shorn during the festivity, divided into 14 herds.
Recommendations for visitors
If you want to make the most of these festivities, here are some recommendations and practical tips:
Wear comfortable clothes and footwear, preferably hiking boots.
Use public transport.
Take plenty of water with you.
Tickets can be bought at the ticket office or online in advance.
What else can you see or do in the town if you go to Pontevedra and Sabucedo?
These places of tourist interest are worth a visit:
Pontevedra:
Basilica of Santa María La Mayor: it was built by the guild of mareantes, during the first half of the 16th century. It has a late Gothic style.
Ruins of Santo Domingo: it is a Gothic temple dating from the 13th century.
Museum of Pontevedra: it has more than 16,000 pieces, such as archaeological objects, jewellery, sculptures and paintings.
Sabucedo:
Ruta das pontes do Lerez: to be in contact with nature.
Pazo de Oca: an old 18th century manor house with gardens.
Parque Arqueolóxico de Campo Lameiro: archaeological park with petroglyphs.
Serra do Candán: mountain park to walk and enjoy the views.
Gastronomy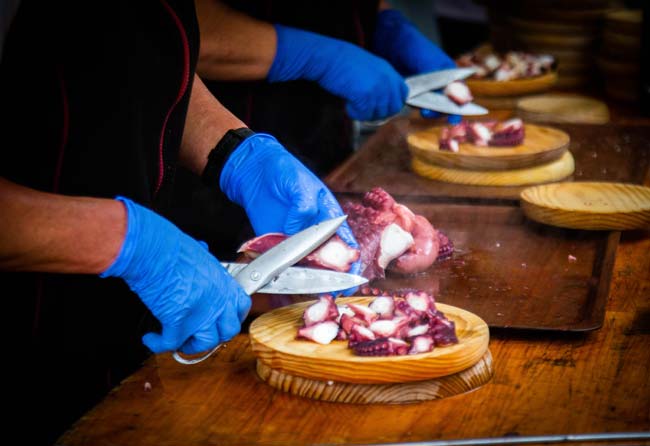 One of the great gastronomic protagonists in Sabucedo is the river fish. It is also a delight to eat a good Galician beef steak.
In the province of Pontevedra one of the specialities is lacón con grelos (pork shoulder with turnip tops), octopus á Feira, Lamprea (a fish) and chestnut broth, among other delicious typical dishes.
Share information about Rapa Das Bestas on social networks. Use the hashtags #rapadasbestas #RapaDasBestas.